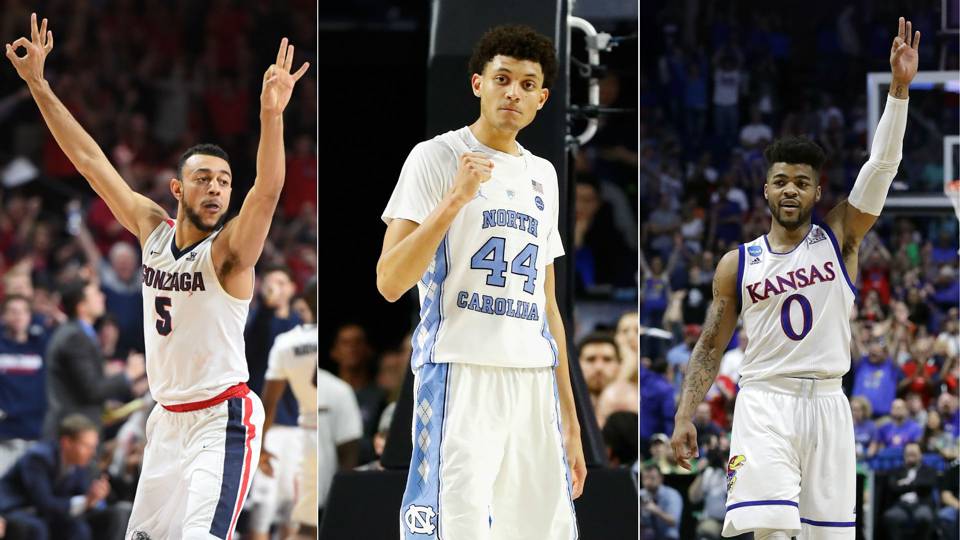 The First Round of the NCAA Tournament was a snoozer — for just the fifth time ever, all the top-four seeds advanced to the Round of 32.
Then the Round of 32 came and set off the real March Madness, making college basketball junkies beg for more.
How sweet it is. The Sweet 16 is here, with games set to tip off on Thursday night.
The biggest surprises of the first weekend of March Madness? Reigning national champion Villanova was ousted by No. 8 Wisconsin on Saturday. That was followed on Sunday as Duke and Louisville — two No. 2 seeds from the ACC — were upset.
Also on Sunday, No. 2 Kentucky avoided a scare and outlasted a feisty Wichita State squad 65-62.
With No. 1-overall seed Villanova (+750 odds), No. 2 seeds Duke (+600) and Louisville (+1600) becoming victims of upsets, Kansas and North Carolina are now the best bets to survive March Madness and win the 2017 NCAA Tournament.
Here are the latest odds for all Sweet 16 teams to win the national championship.
Odds to win 2017 NCAA Tournament
Kansas +475
UNC +500
Gonzaga +650
Arizona +650
UCLA +900
Kentucky +1000
Florida +1200
Michigan +1600
Baylor +1600
West Virginia +1800
Oregon +1800
Wisconsin +1800
Purdue +2000
Butler +4000
South Carolina +5000
Xavier +7500
So let's take a breather for a few days and get ready for some great games on Thursday and Friday.
NOTE:  The national semifinals (Final Four) from Phoenix will be televised Saturday, April 1, on CBS. The national championship will air Monday, April 3, on CBS.
Thursday's Sweet 16 Tip Times
7:09 p.m. CBS: No. 7 Michigan vs. No. 3 Oregon:  (LIVE Stream) Kevin Harlan / Reggie Miller / Dan Bonner // Dana Jacobson
7:39 p.m. TBS: No. 4 West Virginia vs. No. 1 Gonzaga: (LIVE Stream) Brian Anderson / Chris Webber // Lewis Johnson
Approx. 9:39 p.m. CBS: No. 4 Purdue vs. No. 1 Kansas:  (LIVE Stream) Kevin Harlan / Reggie Miller / Dan Bonner // Dana Jacobson
Approx. 10:09 p.m. TBS: No. 11 Xavier vs. No. 2 Arizona:  (LIVE Stream) Brian Anderson / Chris Webber // Lewis Johnson
Friday's Sweet 16 Tip Times
7:09 p.m. CBS: No. 4 Butler vs. No. 1 North Carolina (LIVE Stream) Jim Nantz / Grant Hill / Bill Raftery // Tracy Wolfson
7:29 p.m. TBS: No. 7 South Carolina vs. No. 3 Baylor: (LIVE Stream) Verne Lundquist /Jim Spanarkel // Allie LaForce
Approx. 9:39 p.m. CBS: No. 3 UCLA vs. No. 2 Kentucky: (LIVE Stream) Jim Nantz / Grant Hill / Bill Raftery // Tracy Wolfson
Approx. 9:59 p.m. TBS: No. 8 Wisconsin vs. No. 4 Florida: (LIVE Stream) Verne Lundquist /Jim Spanarkel // Allie LaForce